Howard manuscript to be auctioned
Saturday, January 14, 2006
posted by Leo Grin

Print This Post
This kind of thing doesn't come up too often. Heritage Galleries and Auctioneers, the world's largest collectible auctioneer, is going to be selling the manuscript to one of Howard's best stories,"The Grey God Passes," along with the rejection letter the story received from Weird Tales. Something like this could go for anywhere from $5000 to $30,000, depending on the players and heat.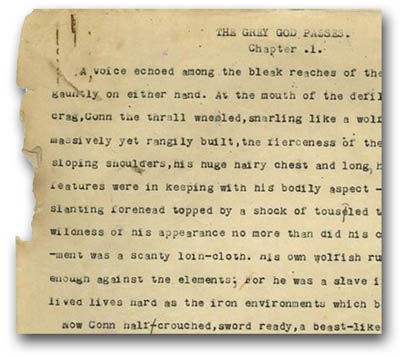 Here is the relevant information from their website:
Robert E. Howard Typed Manuscript and Rejection Letter for: The Grey God Passes. This lot features the original typed manuscript of The Grey God Passes, and the rejection letter it got from Weird Tales magazine. The rejection letter states in part, "I am sorry to return your story, THE GREY GOD PASSES. The story itself, the plot, seems very slight, and the weird element is not as strong as I would like it to be." The manuscript itself is 36 pages long and contains editorial marks and occasional notes. Accompanying the manuscript and letter is a typed letter from the original consigner which explains the provenance of the manuscript. Robert E. Howard is best known for his creation, "Conan the Barbarian!" Conan got his start in Weird Tales magazine, so this lot is significant in that it features both the work of a great science fiction author and the magazine that gave his most popular character his start.

The manuscript is in good condition, with some minor problems. The paper is beginning to yellow and turn brittle. There is already some mild flaking around the ages and some rust stains from a paper clip on the first page. The letter is also yellowing slightly, and has rust stains from a paper clip on its upper edge. Bring the axe down on this lot today! *****

The Consignment Deadline for this auction has passed, but we are always accepting quality consignments. E-mail us at Consign@heritageamericana.com if you are interested in information.

Auction Information
Location: Dallas, TX
Auction: 2006 February Dallas Books, Autographs and Manuscripts Auction "New York City" #626
Internet Bidding Begins February 1, 2006
Auction Dates: February 20-21, 2006
Note: Internet Absentee Bidding Ends at 10 PM CDT the night before the floor session of any particular lot. See the individual lot page for specific times.