Howard Days schedule coming together
Wednesday, March 21, 2007
posted by Leo Grin

Print This Post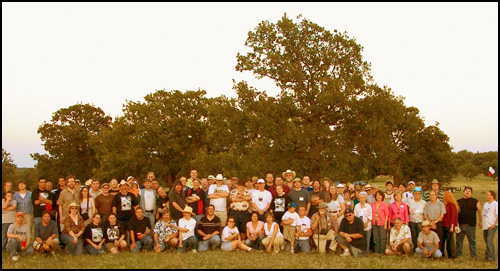 I'll be posting a more official and thorough schedule at REHupa.com soon, but here's the basics to whet your appetite and start your planning.
2007 REH DAYS SCHEDULE

GUEST OF HONOR: Greg Manchess

Thursday, June 7 (pre-festival tour)
Join Leo Grin on a special caravan trip to some of Howard's favorite haunts — Fort McKavett, Enchanted Rock State Park, Fredericksburg and all the beautiful Texas countryside that inspired the fictional land of Cimmeria. Leaves Jean's Feed Barn after breakfast and returns to Brownwood for a late dinner.

Friday, June 8
9:00 – 4:00: Howard House Museum open for tours. Closed for lunch.
9:00 – 4:00: Postal Cancellation at downtown Post Office
10:00 – 500: Public Library downtown open. Original manuscripts available for viewing, copies for sale
10:30 – 12:00 Walking and bus tours, free time
12:00 Lunch in the pavilion – provided by Project Pride
2:00 Panel: "Black Rivers and Red Nails: The Art of Greg Manchess," hosted by Craig Miller
3:00 Panel: "Shadow Kingdoms: Exploring Kull's Thurian Age," hosted by Larry "Deuce" Richardson
4:00 – 6:30 Dealer's Room open for browsing adjacent to dinner site
Silent Auction available for browsing and bidding at dinner
6:30 Celebration dinner – fresh cooked, piping hot, mouth watering catfish and all the trimmings
Silent Auction ends right after dinner
9:00 The Cimmerian Awards, hosted by Leo Grin at Pavilion

Saturday, June 9
9:00 – 4:00 Howard House Museum open for tours (closed for lunch)
Annual Barbarian Festival downtown – a small town specialty: parade, car show, tractor show, live music, crafts, lots of food vendors
12:30 Kane film presented by Derek Stallings
1:00 Panel: "Desert Adventurers: El Borak, Kirby O'Donnell and other Gunslingers of the Wild East," hosted by Dave Hardy
2:00 Panel: "Ringside Tales: The Amazing Stories Behind Howard's Favorite Boxers," hosted by Chris Gruber
3:00 – 5:00 Free Time
5:00 – 8:00 "Sunset BBQ at Caddo Peak," hosted by the Middleton Family, owners of the beautiful ranch
I'm actually pretty excited about this year: the day trip will be a blast (Don Herron and I already did that one a few years ago as a test run), the catfish dinner will be a nice change from the usual banquet fare, and the more fannish panels from a roster of mostly "new guys" sound like a lot of fun.