Harold Lamb continues his comeback
Wednesday, October 17, 2007
posted by Leo Grin

Print This Post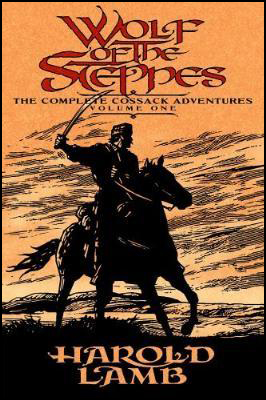 Howard Jones, Managing Editor at Black Gate and the major Harold Lamb scholar working today (see his website dedicated to Lamb), has announced on his blog that the four volumes of Lamb's Cossack stories published by the University of Nebraska's Bison Books imprint have sold well enough for Bison to agree to publish a further three volumes of Lamb's best work.
For those of us who have enjoyed the Lamb books Bison has published to date, this is great news. Harold Lamb was one of Robert E. Howard's all-time favorite authors, a regular in top-tier pulps like Adventure as well as many other popular magazines of the day. He was also a scholar of barbaric times and cultures, and his many biographies and histories remain valuable. Just a few months back I heard popular radio talk-show host Michael Savage off-handedly recommending Lamb's biography of Genghis Khan to listeners, a tome I myself recently found at a used bookstore's going-out-of-business sale.
Reading Harold Lamb's work today, one can see why REH was so taken with his writing. While he lacks the primal fire and prose poetry that fuels Howard at his best, Lamb was the superior plotter, expertly utilizing the pulp template to lace his thrilling tales of warfare and derring-do with enough twists and turns to make a Stygian wizard's head spin. His stories about the elderly but still feral Khlit the Cossack struck me as a shadowy glimpse into how Conan might have looked and acted at that age, had Howard ever gotten around to writing about his twilight years.
Jones promises that the three new volumes will contain much of Lamb's very best work. Crusader yarns, Mongol stories, Viking tales. Robert E. Howard fans who value books like Lord of Samarcand will have a lot of fun with Lamb's breakneck pacing and deft evocation of the Middle East during the Middle Ages. These days it's all too rare to find and enjoy pulp pleasures of the kind offered by writers like REH and Lamb. meaning collected short stories that can be leisurely read, one per night, over a glass of wine — the perfect sedative to a hard day spent at the office.
So if you haven't yet, pick up the four Cossack volumes, and keep an eye out for the next three. REH adored these tales, and you will too.