Hardcover Conan Collection from Easton Press
Sunday, January 10, 2010
posted by Deuce Richardson

Print This Post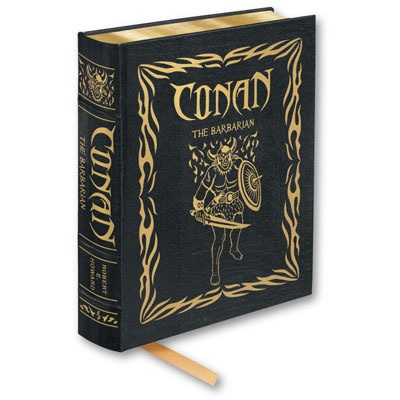 Easton Press has announced the imminent publication of a hefty collection of Robert E. Howard's Conan yarns, all in a deluxe, leather-bound format. Easton has been reticent concerning the contents of the book, but judging from the page-count, cover font and the cover illustration, the Easton volume is a high-end reprint of the Prion edition from last year (see below).
Morgan Holmes and [redacted] have both sung the (qualified) praises of Prion's Conan the Barbarian. From the little we know, if Easton is reprinting the Prion edition (which strictly reprinted stories from the public domain), then Easton's collection should be one to at least consider buying. Easton is a subsidiary of MBI Incorporated, which corporation also owns Danbury Mint. Both companies have a reputation for good quality, if not outstanding, products.
Here are some of the standard features of Easton Press editions:
* Genuine Leather
* Silk Moire Endleaves
* Hubbed Spine, Accented in Real 22KT Gold
* Satin Ribbon Page Marker
* Gilded Page Edges
* Long-lasting, High Quality Acid-neutral Paper
* Smyth-sewn Pages for Strength and Durability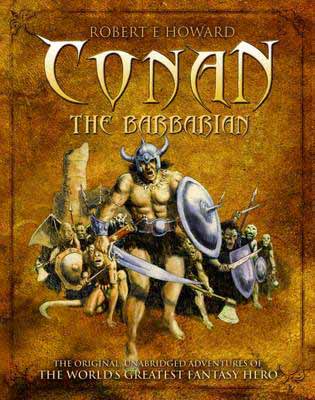 *My thanks to Bill Thom of Coming Attractions.
AL SURREPTITIOUSLY ADDS: If this is indeed the Prion edition, I hope they do something about the map. I'd hate for some prospective Howard fan to mistakenly think Conan was imprisoned in "Belvertis," was the scourge of the "Valayet Sea," and was a "Barach Pirate." Certainly Turan's bizarre placement in northeastern Aquilonia would put "The Hyborian Age" in a whole new light.
DEUCE STEALTHILY NOTES: I meant to comment on that on your post, Al. I'd bet green money that "Turan" was meant to be "Tauran." Here's hoping Easton straightens that (and other typos) out. Perhaps an email is in order.