Frazetta Family Dispute (Seemingly) Resolved
Friday, April 23, 2010
posted by Deuce Richardson

Print This Post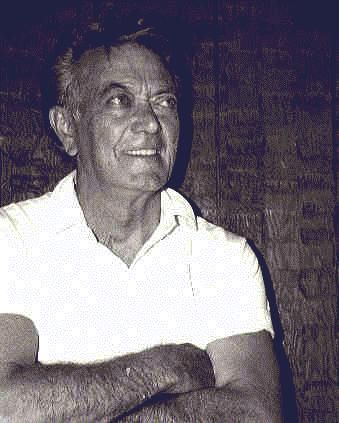 The news is out. The four children of Frank Frazetta, Sr. have agreed to settle their differences beyond the legal confines of a Pennsylvania county courtroom.
As regular readers of The Cimmerian already know, the past nine months have been traumatic for Mr. Frazetta. In July 2009, Ellie Frazetta, Frank's wife, business partner and number-one fan, passed away after a battle with cancer. Things seemed to unravel after that.
Not long after Ellie's death, Frank signed over all control of his artwork/creations to a limited liability company. That company's board of directors was composed of Bill Frazetta (Frank's son, who runs a hobby shop in East Stroudsburg, PA), as well as Holly Taylor and Heidi Gravin (Frank's two daughters). Alfonso Frank Frazetta, Frank Sr.'s eldest son (also known as "Frank Jr."), was made a beneficiary of the LLC, but was given no say-so over the disposition of Frank Sr.'s works.
By November 1st, Frazetta's cover painting for the Lancer edition of Conan the Conqueror had been sold to a private collector (several sources seem to agree that Kirk Hammett, lead guitarist for Metallica, was the buyer). All this, despite the previous assertions from Frank and Ellie that all of Mr. Frazetta's paintings for the Lancer Conans would remain on display at the Frazetta Museum located near Marshall's Creek, Pennsylvania. The dedication of the Frazetta Museum is the central event featured on the Painting With Fire dvd.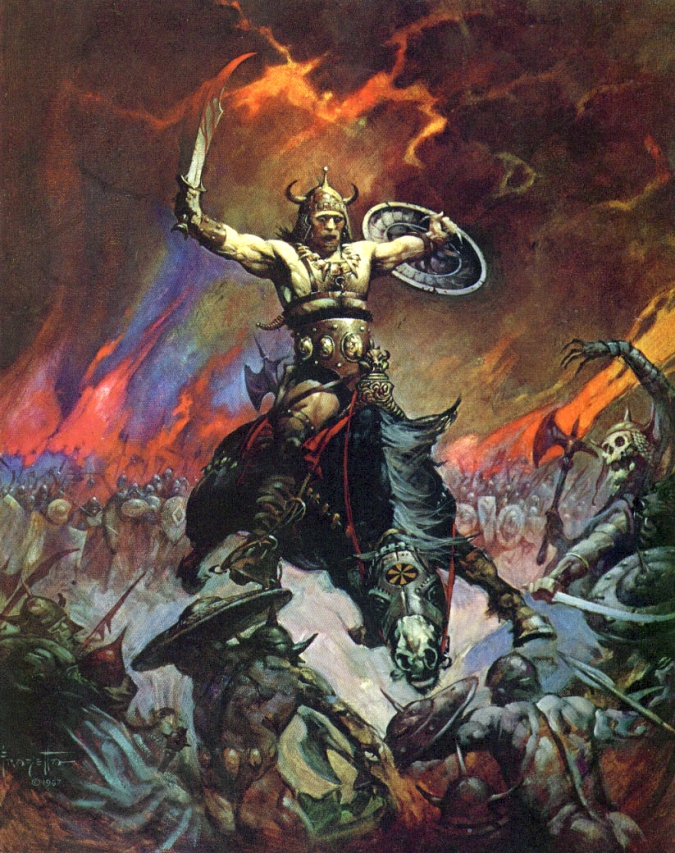 At the time of sale, it was rumored that Frank Jr. was opposed to the auction of his father's iconic painting. Frank Jr. had been hand-picked by Ellie Frazetta to help her run the Frazetta mail-order business, as well as assist in the planning and construction of the Frazetta Museum. Frank Jr.'s home is situated less than a mile from his parents' former residence (with the Museum next door to it).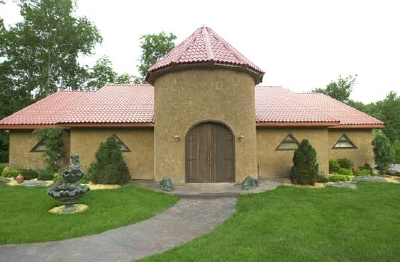 By all accounts, Frank Frazetta, Sr. spent Thanksgiving (less than four weeks after the sale of "Conqueror") at Frank Jr.'s house. Bill, Heidi and Holly apparently couldn't make it. Not quite a week later, Frank Sr. was seated in the office of Adeline Bianco, notary public, revoking the power of attorney which he had given to Bill, Heidi and Holly. A few days later, Frank Sr. was on a plane to Florida to stay under the loving care of his daughter, Holly Taylor. He's been there ever since.
Mr. Frazetta's son, Alfonso Frank Frazetta, appears to have taken drastic action after receiving a notarised letter from his father. Blog entries about that can be read here and here. 
One consequence of the hearing for Frank Jr. in December was the firing of small-town notary public, Adeline Bianco, from her job at Katz Insurance. The word on the street is that the Frazetta LLC filed a ten million dollar lawsuit against Mrs. Bianco.
Alfonso Frank Frazetta was facing charges which could have put him in prison for twenty years. The notarized letter from Frank Sr. which authorized Frank Jr. to secure the paintings in the Frazetta Museum has never been legally invalidated (to my knowledge). More word from the street would seem to indicate that Frank Jr. and his wife, Lori Frazetta, ditched their small-town attorney recently and brought on a heavy-hitter to match those marshalled by the Frazetta LLC (which does so with funds drawn from the sale of Fritz's iconic paintings; a vicious circle). Suddenly, an out-of-court settlement has been reached. I think it no coincidence. I predicted as much in December.
Frank Frazetta deserves better than what he's had to endure the last nine months. Here's hoping that he can now concentrate on creating more classic works of art. We can still hope that Frank's paintings will return to the Frazetta Museum, as Ellie Frazetta always intended.
*My thanks to Frazetta (and REH) fan extraordinaire, Terry Allen, for the tip.