Four-Volume Boxing Set Forthcoming From the REHF
Monday, November 2, 2009
posted by Deuce Richardson

Print This Post
Over on the Official Robert E. Howard Forum, [redacted] (at right) let the bulldog out of the bag. Here's what he had to say…
The boxing stories WILL be reprinted in the deluxe, annotated Hoops and Bells and Whistles treatment, but it will be done by the Foundation. The current plans are for FOUR books. Patrice, Grub, and myself are working on the project. So, it's coming. I've waited this long, and I'm really happy to have Howard's entire boxing output in a handsome matched set. Nice, eh?
Finn ain't the only one with an ear-to-cauliflower ear grin. Many hard-core Howard aficionados have been chomping at the bit in anticipation of this collection of REH's complete output in the boxing fiction genre. Robert E. Howard loved boxing. He watched bouts, he sent letters to the sports pages and boxing pulps and he fought in amateur bouts himself. Last, but not least, he wrote yarns about boxing. Four sizable volumes worth of boxing stories. Humorous stories, serious stories, stories set in the States, in the Far East and the desert. As others have noted, Howard's boxing tales are an excellent guide to the man himself; Robert E. Howard in the round. Within them he let loose his inimitable humor, as well as providing his views on the hypocrisy of modern society and the struggle of a lone man against an unsympathetic world.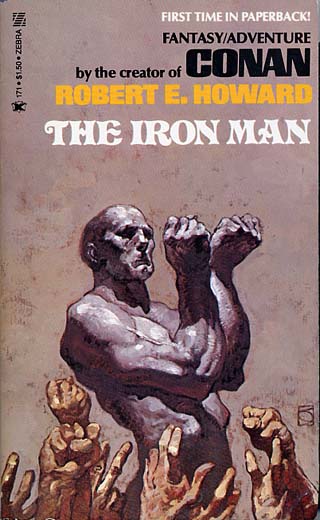 Over the last thirty-plus years, valiant efforts have been made to bring Howard's boxing yarns to a wider audience. The Glenn Lord-edited The Iron Man and The Incredible Adventures of Dennis Dorgan introduced many to this side of REH's writing genius, including yours truly. More recent volumes, such as Boxing Stories and Waterfront Fists, have raised the bar even higher, and have taken this whole category of Howard's writings into the twenty-first century.
[redacted] provided no ETA for the publication of this project from the Robert E. Howard Foundation. We do know that the Foundation has several other books in the works. One can only hope that we see the adventures of Sailor Steve Costigan, Dennis Dorgan (pictured below), Kid Allison and all of Howard's other pugilistic protagonists between the hard covers of a uniform set sooner than later.
*For the curious, you can check out the "Boxing" category at Howard Works to get an idea of the extent of REH's work in the boxing fiction genre.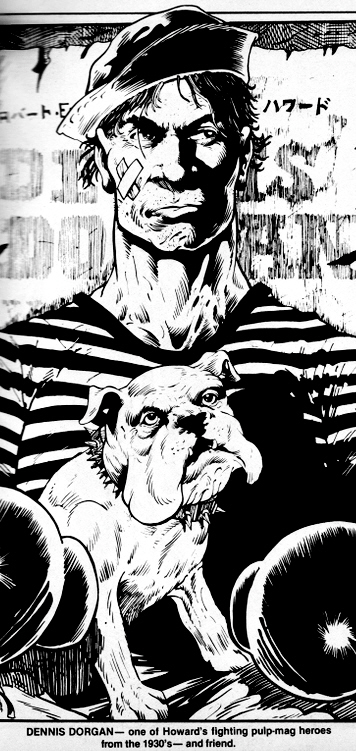 *Art by Gene Day.