Final Conan Volume Coming From WS/Book Palace Books
Friday, May 22, 2009
posted by Deuce Richardson

Print This Post
Muchas gracias to our amigo, Bill Thom, for informing all of us over on the Official Robert E. Howard Forum that Wandering Star has signed a deal to publish the final deluxe, hardcover volume in the Conan series.
Through an agreement with Wandering Star, Book Palace Books will bring out a deluxe hardcover of The Conquering Sword of Conan that will (presumably) match the earlier, Wandering Star editions of The Coming of Conan of Cimmeria and The Bloody Crown of Conan.
The book features 13 colour paintings and 52 tonal paintings in a
signed and numbered edition of 1000 copies.
Limited Clothbound edition of 1000 – $195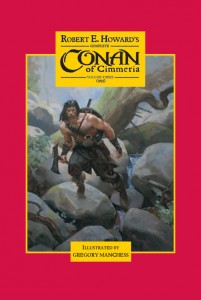 Limited leatherbound edition of 100 – $500
Publication – November 2009
Not much else is known at this time.