Doc versus Bumble! The fate of Christmas hangs in the balance…
Saturday, December 19, 2009
posted by Deuce Richardson

Print This Post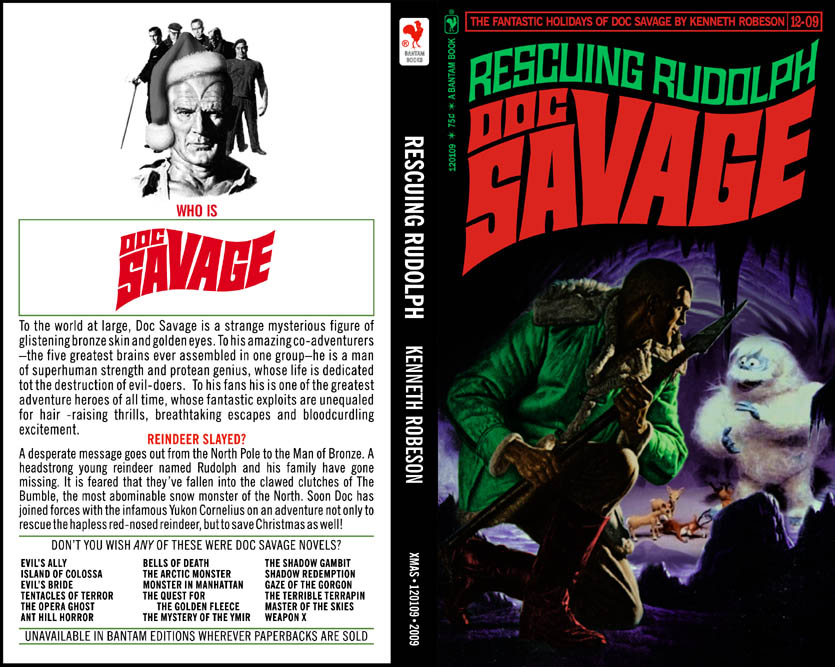 I discovered this cover for a Doc novel that "should have been" over at James Reasoner's most excellent site, Rough Edges. From there, it was but one more click to Kez Wilson's Doc Savage Fantasy Cover Gallery.
It's been nearly three decades since I read a Doc Savage book, but I've still got a soft spot for the Man of Bronze. Lester Dent, a pulpster from the Midwestern hinterlands, was a man of incredible energy and that often came through in his novels, which he cranked out at a jaw-dropping pace.
Looking over some of Wilson's other fantasy Doc covers, ones like Devil Doctor reminded me that Doc's stories were basically "weird menace" tales, tales just like REH's own "Black Wind Blowing" or "Skull-Face".
Here's hoping that Mr. Wilson doesn't stop with these covers. Merry Christmas.