The Cross Plains Library gets a new website
Sunday, May 10, 2009
posted by Leo Grin

Print This Post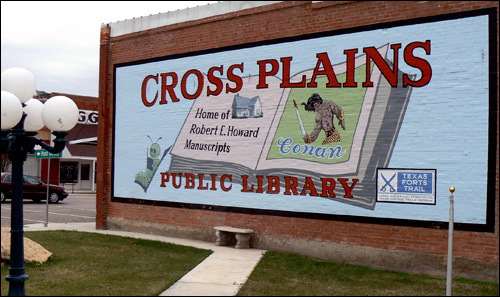 It appears that the website for the Cross Plains Public Library is being updated, so pop over and take a look. Howard is prominently featured, of course. As reported on this site in 2007, the Library is featured in a nifty hardcover book called Heart of the Community: The Libraries We Love. Cross Plains is one of the smallest towns in America to have its own library, an impressive feat that was the result of a bunch of dedicated and civic-minded book lovers working for many years to make it happen.
Click on over to their Books for Sale page, and you will see several items of interest to Howardists, not the least of which are copies of the original Howard typescripts on file there. An interesting associational item is On the Banks of Turkey Creek by lifelong local James Nichols, which contains lots of stories from the time soon after Howard died, in the 1940s. Anyone interested in the place Howard called home would benefit from that book.
Yet another item for sale there is their Transcript of the Oral History of Jack Scott. The late Mr. Scott had forgotten more about the history of the town than most people ever know, and interviews with him always proved valuable to serious Howard scholars. Those of you attending Howard Days next month will be able to pick up any or all of these items right there at the library.