A Tolkien Curmudgeon's Prayers Answered
Tuesday, April 17, 2007
posted by Leo Grin

Print This Post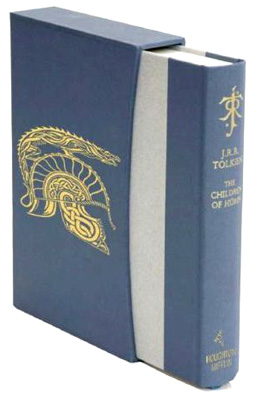 As you may recall, I wrote a post awhile back complaining about (among other things) the omnipresence of Alan Lee art on various Tolkien volumes. At the time I wished aloud that a version of The Children of Húrin would appear sans the usual fey-and-grey assault of the ethereal Lee palette.
How gratifying it was to recently visit the Amazon.com webpage for the book and discover that a slipcased deluxe edition is now slated for release on May 16, 2007, a month after the regular edition debuts this morning. At only $47.25 the copy I consider it a bargain. The Lee plates are preserved within, but the cover and slipcase contain only the elegant symbols conceived and drawn by Tolkien himself.
What I would give to have all of Howard in uniform slipcased editions with heavy paper and a large font without art and other editorial apparatus, books that put the lover of words and text and reading first. Currently, out of all the Howard books in my collection, I'm liking the Bison Books hardcover REH set best. The font is a bit small and hence hard on the eyes, but no more so than the Wandering Star books, and the Bisons are uniform, jet black (my favorite color for binding Howard, as Cimmerian readers know) and contain a wealth of great reading. Very classy and elegant in their simplicity — Bison could have done far worse.
I've been thinking of purchasing some new editions of The Hobbit, The Lord of the Rings, and The Silmarillion as well, and will have to see if more-or-less matching slipcased editions of those are available. I've seen some that come close, but will have to investigate their textual integrity. I also prefer The Lord of the Rings to be broken down into three physical volumes, or even better the seven physical volumes of the Millennium set that came out circa October 1999. That set, and most of the editions that have come after, feature textual restoration and an essay concerning same by occasional Cimmerian reader Douglas Anderson.
I was also pleased to see a short essay at Amazon by Tolkien's grandson Adam Tolkien titled "On the Children of Húrin," which delves into the genesis of the book and the efforts of his father, the inestimable Christopher Tolkien, to edit the full story into being. Adam seems a man of my own heart, with all of his talk of "this tragic tale of brutal conquest and flight, of forest hiding-places and pursuit, of resistance with lessening hope, and of a huge wingless dragon of fire" and "a larger world, an ancient land of heroes and vagabonds, honour and jeopardy, hope and tragedy."
Looks like I'll be waiting an extra month before delving into this volume, but to tell the truth I'll have little trouble resisting its siren call with all of the latest Cimmerian work piling up. The Cimmerian Library Volume 4 is printed and ready to soon take the TC readership by storm, and V4n2 should be ready to go within a week or two. Then the V3 Index and the V3 slipcases should be hot on their heels. I'm looking forward to getting all caught up so that I can do some blogging and post some more stuff about the forthcoming Howard Days.