A Silent Auction Treasure
Wednesday, June 13, 2007
posted by Leo Grin

Print This Post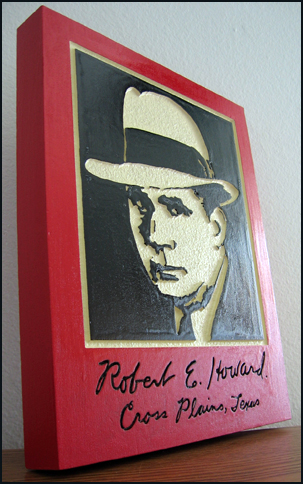 Head on over to Rehupa.com to read Official Editor Bill "Indy" Cavalier's thoughts on this year's Howard Days. Lots of Howardian merrymaking and mayhem told in our Benevolent Dictator's inimitable style.
At one point he mentions his donation to the Silent Auction, a "carved REH plaque." Indy does all sorts of artistry, wood carving, and sign making at his day job, so a project like this is right up his alley. Back in 2005 he donated a similar plaque to the Silent Auction with (as I recall) only red and black colors in the mix. Carved from wood just like this one, hand-painted, suitable for hanging on your wall, with an accurate facsimile of Howard's original signature at the bottom. At the time I thought the plaque way cool and unique, but ended up giving it up to another drooling fan.
When I saw this new and improved one on the auction table this year, I had to have it. I ended up bidding $100 to take it home, and I'm sure you can see from the photo above why I'm glad I did. I'm not much of a collector — my entire Howard collection takes up about three feet of bookshelf — but having this lovingly crafted item reminding me about one of my best friends in the field is worth a thousand Jenkins Gent from Bear Creeks.
At least until I break it over someone's head during the next rowdy Howard get-together….