2007 REH Day planned for Gen Con
Monday, September 11, 2006
posted by Leo Grin

Print This Post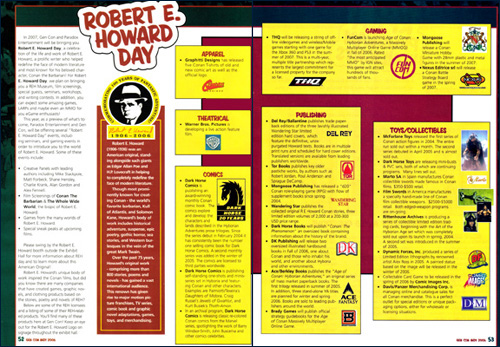 Indiana Bill Cavalier, REHupa's benevolent dictator and longtime Official Editor, makes it a point to go to the annual Gen Con gaming convention in Indianapolis, Indiana. He's a hardcore role-player, you see, and Gen Con is the largest gaming convention in the world. This year, however, Indy got a shock when he discovered that Paradox Entertainment has been hard at work planning to host a Robert E. Howard Day next year at the Con, complete with panels, Guests of Honor, and lots of dealers.
Cimmerian readers already have the lowdown from Indy in V3n8 (August, 2006) — if you haven't snapped up that ish to learn all the details, then as usual you're missing out on much Howard information. In the meantime, here are high-res copies of both the left and right pages from the Gen Con flyer above announcing the event:
We'll be posting more information on this blog as it's learned. Gen Con 2007 is scheduled for August 16-19, so mark your calenders and start saving your lunch money.